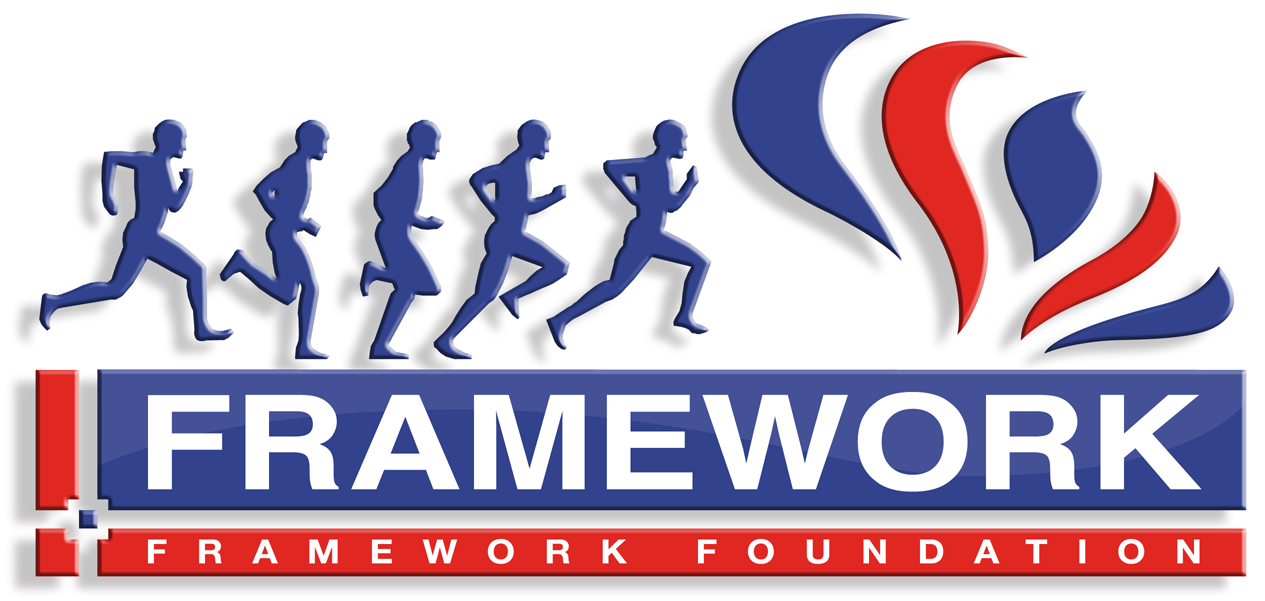 FRAMEWORK FOUNDATION
Raising Money for Teenage Cancer Trust and other worthy causes
2TonRun -
100 Marathons in 100 Days
It all started on Saturday 14th January 2012. This was the day that Matthew Loddy left the warmth of Lagos in the Portuguese Algarve and started his 2600 mile journey home; along the southern coast of Portugal before turning north and following the coastline to Spain. Across northern Spain, over the Pyrenees, and then up through France, before running across the channel on a treadmill on the P&O ferry. Then he ran along the south coast before turning northwards and on to London. He ran 100 marathons over a period of 100 days & finished 22nd April at the Virgin London Marathon, unbelievably with his fastest run - 3' 09"!
A Big thanks to FleetMatics for the vehicle tracker. Also, thanks to everyone who supported Matthew or sponsored him on his epic journey. We were overwhelmed at the level of support he received from corporate contacts, friends, family and even total strangers. This drove Matthew on and really helped him focus on his target.
The Final Stages



2 Ton Run Days 86-100

Day

Date

From / To

Accommodation

86

08/04/2012

Bourg-Achard - Saint Saens

Saint Saens

87

09/04/2012

Saint Saens - Blangy Sur Bresle

Saint Saens

88

10/04/2012

BSB - Etaples

Etaples

89

11/04/2012

Etaples - Marquise

Etaples

90

12/04/2012

10 Miles France - Tunnel Crossing/Ferry Crossing

91

13/04/2012

Folkestone - Rye

92

14/04/2012

Rye - Eastbourne

93

15/04/2012

Eastbourne - Brighton

94

16/04/2012

Brighton - Bognor Regis

95

17/04/2012

Bognor Regis - Portsmouth

96

18/04/2012

Portsmouth - Southampton

97

19/04/2012

Southampton - Alton

98

20/04/2012

Alton - Leatherhead

99

21/04/2012

Leatherhead - Greenwich

100

22/04/2012

LONDON MARATHON
Matthew has always been a keen sportsman and needed to keep fit in his earlier life as he tried to make his fortune as a professional footballer. Sadly, he just missed the boat, and after a non league career ended, the pounds went on. Here we are 20 years later, and he says the training feels just as hard as it ever did!
Training aside, the commitment for such a feat was very real, and with a constantly expanding group of followers and supporters the challenge was well and truly set. This was an immense task, and Matthew thoroughly deserved the level of support he received.
Look at who took part in the run;
- Sheryl Gascoigne and her children Bianca, Regan and Mason in a tag team
- Karen, India and Jemima Loddy - in support of their crazy husband/father
- Tony Garment - friend, fellow Trustee & regular running companion
- Cliff King – See the support team page
- Jon O'Shea (Haslers) – A very professional man who has previously run a marathon to the North Pole
- Lawrence Shafier (Mr Fit from Haslers) – A very professional man who is just too fit for words!
- Ed Bankole, Jason Austin, Chris Hurley – Framework Scaffolding Management team
- Jamie Wyatt, Mark Jewell, Dave Trevillion – Framework Scaffolding 'wannabe' Management Team
Keep up-to-date with Matthew's next story via his blog

here
Read some of his very welcomed messages of support

here
Celebrity endorsements for Matthew's challenge can be found

here
And see photos taken along the way

here
Major sponsors for the 2Ton Run can be seen

here
Registered Charity No. 1144338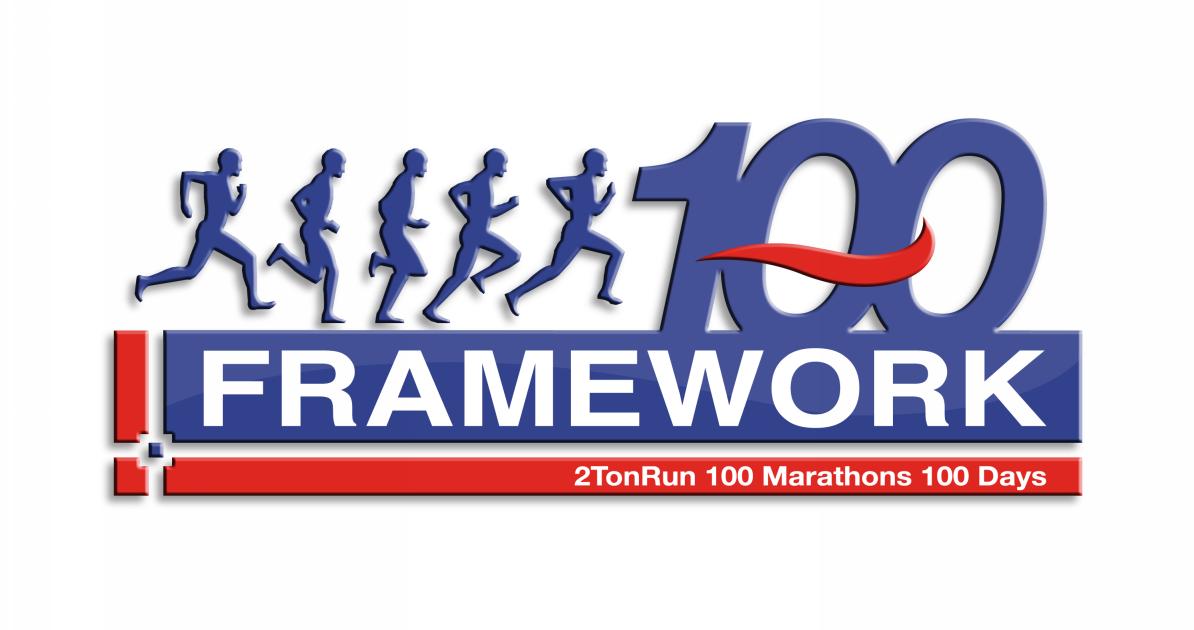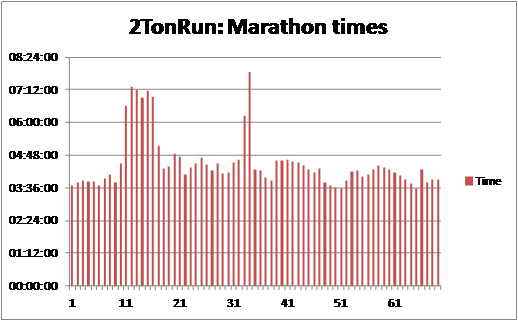 2Ton Run Statistics:
1 Marathon = 26 Miles 385 yards or 42.195km
Fastest Marathon in Red
Day 1

Marathon 1

3'41''23

Day 26

Shin Infection

Day 51

Marathon 44

4'24''33

Day 2

Marathon 2

3'48''09

Day 27

Shin Infection

Day 52

Marathon 45

4.2k (+4.67k)

4'15''22

Day 3

Marathon 3

3'53''19

Day 28

Shin Infection

Day 53

Marathon 46

5.3k (+9.97k)

4'09''14

Day 4

Marathon 4

3'49''23

Day 29

Shin Infection

Day 54

Marathon 47

9.5k (+19.47k)

4'18''30

Day 5

Marathon 5

3'50''03

Day 30

5k (+5k)

Day 55

Marathon 48

8.1k (+27.57k)

3'48''23

Day 6

Marathon 6

3'41''22

Day 31

5k (+10k)

Day 56

Marathon 49

7.5k (+35.07k)

3'40''48

Day 7

Marathon 7

3'56''51

Day 32

10k (+20k)

Day 57

Marathon 50

Marathon 51

8.2k=1 Marathon

(+1.075k)

3'35''48

Day 8

Marathon 8

4'05''33

Day 33

Marathon 26

26k = 1 Marathon (+3.805k)

Day 58

Marathon 52

8.42k (+9.495k)

3'53''00

Day 9

Marathon 9

3'47''13

Day 34

Marathon 27

8.13k (+11.935k)

4'13''49

Day 59

Marathon 53

6k (+15.495k)

4'11''14

Day 10

Marathon 10

4'29''55

Day 35

Marathon 28

5k (+16.935k)

4'29''03

Day 60

Marathon 54

7.1k (+22.595k)

4'14''00

Day 11

Marathon 11

6'37''28

Day 36

Marathon 29

3.5k (+20.435k)

4'07''32

Day 61

Marathon 55

6.35k (+28.945)

4'01''34

Day 12

Marathon 12

7'19''06

Day 37

No Run - Unwell

Day 62

Marathon 56

8.51k (+37.455k)

4'05''23

Day 13

Marathon 13

7'11''05

Day 38

Marathon 30

6k (+26.435k)

4'09''09

Day 63

Marathon 57

Marathon 58

6.51k=1 Marathon

(+1.77k)

4'24''51 (+1.77k)

Day 14

Marathon 14

6'55''05

Day 39

Marathon 31

6.25k (+32.685k)

4'31''09

Day 64

Marathon 59

8.15k (+9.92k)

4'20''24

Day 15

Marathon 15

7'08''58

Day 40

Marathon 32

7.28k (+39.965k)

4'38''39

Day 65

Marathon 60

6.3k (+16.22)

4'16''05

Day 16

Marathon 16

6'56''11

Day 41

Marathon 33

Marathon 34

5.58k=1 Marathon

(+3.35k)

7'52''03

Day 66

Marathon 61

8.2k (+24.42k)

4'09''22

Day 17

Marathon 17

5'09''36

Day 42

Marathon 35

4'17''31

Day 67

Marathon 62

6.25k (+30.67k)

4'02''24

Day 18

Marathon 18

4'18''30

Day 43

Marathon 36

10.26k (+13.61k)

4'13''04

Day 68

Marathon 63

7.2k (37.87k)

3'54''54

Day 19

Marathon 19

4'23''32

Day 44

Marathon 37

2.7k (+16.31k)

3'59''07

Day 69

Marathon 64

Marathon 65

9.46k=1 Marathon

(+5.135)

3'35''51

Day 20

Marathon 20

4'51''45

Day 45

Marathon 38

5k (+21.31k)

3'53''33

Day 70

Marathon 66

9.36k (14.495k)

4'15''24

Day 21

Marathon 21

4'44''43

Day 46

Marathon 39

6.5k (+27.81k)

4'35''57

Day 71

Marathon 67

6.53k (+21.025k)

3'47''30

Day 22

Marathon 22

4'06''25

Day 47

Marathon 40

26.5k=1 Marathon

(+12.115k)

Day 72

Marathon 68

6.21k (+27.235k)

3'55''44

Day 23

Marathon 23

4'21''38

Day 48

6k (+18.115k)

Day 73

Marathon 69

8.34k (+35.575)

3'54''54

Day 24

Marathon 24

4'30''00

Day 49

Marathon 41

8k (+26.115k)

4'38''41

Day 74

Marathon 70

Marathon 71

7.05k=1 Marathon

(+0.43k)

3'50''43

Day 25

Marathon 25

4'43''02

Day 50

Marathon 42

Marathon 43

16.55k=1 Marathon

(+0.47k)

4'31''57

Day 75

Marathon 72

7.13k (+7.56k)

3'44''20
Day 76

Marathon 73

7.54k (+15.10k)

3'56''54

Day 77

Marathon 74

8.5k (23.60k)

3'55''23

Day 78

Marathon 75

8.31k (31.91k)

3'55''28

Day 79

Marathon 76

Marathon 77

10.45k=1 Marathon

(+0.165k)

3'56''16

Day 80

Marathon 78

8.27k (+8.435k)

4'10''29

Day 81

Marathon 79

9.12k (+17.555k)

3'48''35

Day 82

Marathon 80

10.73k (+28.285k)

3'46''15

Day 83

Marathon 81

Marathon 82

14.12=1 Marathon

(+.21k)

3'51''53

Day 84

Marathon 83

10.27k (+10.48k)

3'33''06

Day 85

Marathon 84

10.56k (+21.04k)

3'24''37 2nd Fastest run

Day 86

Marathon 85

8.37k (+29.41k)

3'57''40

Day 87

Marathon 86

Marathon 87

13.09k= 1 Marathon

(+0.305)

4'30''53

Day 88 - Marathon 88

4'27''15

Day 89 - Marathon 89

4'24''32

Day 90 - Marathon 90

France/Ferry/UK so

completed but no time

Day 91 - Marathon 91

4'07''42

Day 92 - Marathon 92

4'02''08

Day 93 - Marathon 93

3'44''05

Day 94 - Marathon 94

3'50''16

Day 95 - Marathon 95

3'42''32

Day 96 - Marathon 96

3'42''10

Day 97 - Marathon 97

3'32''13

Day 98 - Marathon 98

4'13''23

Day 99 - Marathon 99

3'48''40

DAY 100

LONDON MARATHON

3'09''33 PB